Product Description
1. Three kinds of pressure, three kinds of flow output automatically switch, improve work efficiency
2. Standard configuration can drive two hydraulic spanners at the same time (can be customized to drive four hydraulic spanners at the same time
3. Aluminum titanium alloy pump body, light weight, easy to carry
4. The output pressure can be adjusted freely in the range of 40~700bar
5. High performance radiator, when the oil temperature reaches 35℃, the fan starts to ensure long time work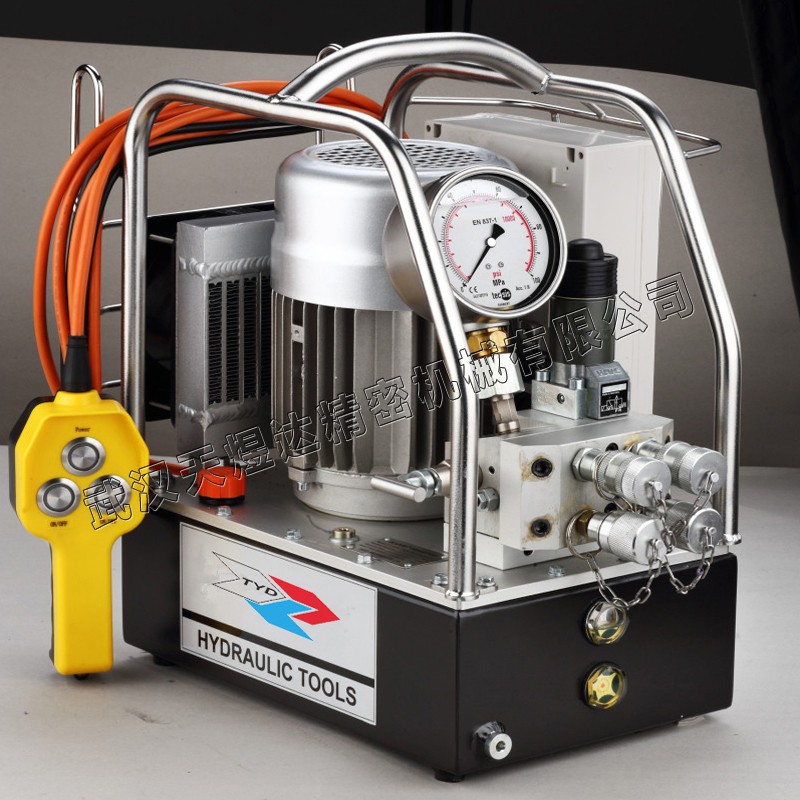 Technical Parameter

Product Features
1 .The pump is designed as a three-stage pump, the three-stage flow and pressure are automatically switched, and the output of large flow at low pressure is automatically realized, and the output of small flow at high pressure is realized, and the input power is reasonably distributed. So as to achieve the purpose of energy saving, high efficiency, low carbon and environmental protection.
2. The pump head of the pump is symmetrically arranged by a plurality of radial plunger pumps, which makes the pump compact in structure, runs more smoothly, and greatly improves the service life of the pump.

3. All the control valves in the pump are all highly integrated cartridge valves. Make modularization, standardization and large-scale production possible. Increased efficiency in production, assembly and maintenance.

4. The electric control part of the pump uses the special integrated circuit board for electric pump independently developed by our company. This integrated circuit board fully considers the safety and reliability of the hydraulic electric pump, simple operation, convenient application and other characteristics; together with its supporting parts, it can achieve:
a) When the hydraulic electric pump has no action, it will automatically stop the pump within 30 seconds.
b) The hydraulic electric pump will automatically remove the pressure in the hydraulic electric pump when the power is turned on and every time the pump is stopped, so that the supporting hydraulic equipment can be assembled and disassembled safely and quickly.
c) Motor overload protection and alarm circuit